Baku, FinanceTime. "Children Hotline Service" is one of the numerous projects supported by "Azercell Telecom" LLC, the company which attaches great importance to the protection of children's rights and their defence within the framework of its Corporate Social Responsibility Policy. Involving staff of psychologists, lawyers and social workers who have extensive experience in related field, "Children Hotline Service" aims to provide children with preliminary psychological assistance, emotional support, emergency aid, advise on problem-solving and address them to the relevant rehabilitation centers or other institutions when needed.
Only in May of the current year 421 people appealed to the service. 217 calls were on educational, while 33 calls were on psychological, 7 calls on health, 35 calls on social and 39 calls on legal issues faced by children. Notably, 370 appeals came from individuals above 18, while the remaining 48 were made by 18-aged and younger. "Children Hotline Service" totally received 1603 calls from January to May, this year. In fact, from 2010 up to June, 2019, 37895 children have benefited from the service.
Aiming to ensure accessibility of the service from every part of the country, mobile application of "Children Hotline Service" for both IOS and Android operating systems was launched in 2017, with Azercell's initiative and support. Goygol office of the service started its operation on June 13, 2018. Along with appeals of the children residing in Goygol, service receives calls from adjacent districts (Goranboy, Gandja, Shamkir, Gazax, Agstafa) as well.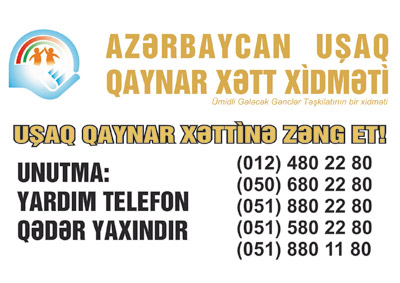 Calls to 24-hour available "Children Hotline" operating with the support of Azercell Telecom and organization of "ÜmidliGələcək" Public Union are free of charge from both landline and Azercell numbers. Children can reach Hotline Service by dialing (012) 480 22 80; (051) 880 11 80, (050) 680 22 80; (051) 880 22 80; (051) 580 22 80 any time. For more information about "Children Hotline Service", please head to the website www.usaqxetti.az.